Block Party 2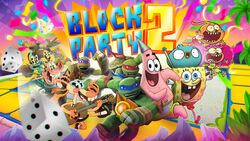 Flash game on Nick.com
Block Party 2 is a flash game on Nickelodeon's website and a sequel to the game Block Party. It was released on November 20, 2015.
Nick.com Description
Your favorite Nickelodeon characters are back and better than ever in the free online action game, Block Party 2. Join the fun in this fun action game. Play as SpongeBob SquarePants, Patrick Star, The Teenage Mutant Ninja Turtles, Donnie, Mikey, Raph and Leo, the Harvey Beaks crew and the entire Pig, Goat, Banana, Cricket cast! Choose your board, choose the length of the game you want to play, choose your player and then let's go! Roll the dice to find out how many spaces you move forward. Make your way across the board, and compete against the other players in a variety of fun online mini games to win coins. The player with the most coins at the end of the game wins! Play Block Party and other free online games on Nick.com.
Characters
Gameplay
In this game, your goal is to get more coins that every other player in a game. You can select characters and boards from the series SpongeBob SquarePants, Harvey Beaks, Pig Goat Banana Cricket and Teenage Mutant Ninja Turtles and the length of the game that you want (Short: 15 coins, Medium: 25, Long: 35).
Unlike the style of every board with the 2D graphics in the original, there, is shown vertically and there are only 16 moves, although you can continue after landing in the start. The game ends if you or another player reach the specific amount of coins. Every time everyone has rolled the dice, there's a mini-game to play.
In Fudge-pocalypse (based on the episode of the same name), you have to click to suck in bubbles. When you suck a Cricket bubble, you get a mega bonus.