Calvin Clam's Butter Crevice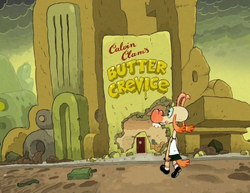 Goat walking towards the store.
Calvin Clam's Butter Crevice is a butter store that sells sticks of butter from small to large which is run by fashion designer Calvin Clam located in downtown Boopelite in "Total Bananarchy".

The shop itself is in shambles when the whole city became a destruction. Goat came by to the store to purchase giant sticks of butter to make a statue for Pig on his birthday.

Meanwhile, the members of the Pancake Gang came by and tries to steal giant butter from Goat. They and the Waffle Mafia attempted to steal the butter and they are being stopped by Goat once and for all.