Calvin Clam Underpants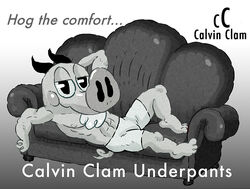 Pig featured on the advertisement.
Calvin Clam Underpants are a brand of underwear made from very sensitive fabrics which can sometimes cause allergic reactions. Developed by Calvin Clam, these underwear were made to be of the highest quality and comfort. However, as mentioned before, they can cause skin reaction such as boils and rashes. Pig has a severe allergy to these, but wore them for a fashion show called "Underpants-Palooza" to impress his parents (primarily his father).

The Gunk Knuckler is a newer model for this brand, specifically chosen by Calvin Clam himself. Supposedly, on a billboard in "Underpants-Palooza", a character very similar to Armpit Willy could be seen modeling the underpants for the brand. This could just be another similar character, however.

In Mall Ya Later, an ad featuring Pig could be seen outside The Mall.