This song's name is unofficial.
Chalawunga Boo-Bunga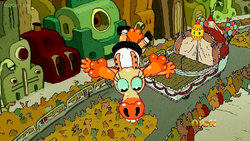 From Season 1, Episode 3 "Happy Chalawunga!"
Chalawunga Boo-Bunga is a song that is performed at The Chalawunga Parade. In "Happy Chalawunga!", Lila Twinklepies attempted to sing this but was later interrupted by Goat who got a much better response from the crowd.
Lyrics
Goat:

Chalawunga boo-bunga
Careful not to step in dog doo-dunga
Me like to eat some egg fu yung-a
On this holiday ca-a-a-alled
Chalawunga!
(repeat chorus)
Don't fly your sneaker into-o-o-o
My boo-bunga
Ad blocker interference detected!
Wikia is a free-to-use site that makes money from advertising. We have a modified experience for viewers using ad blockers

Wikia is not accessible if you've made further modifications. Remove the custom ad blocker rule(s) and the page will load as expected.