Cow Duck Avacado Mantis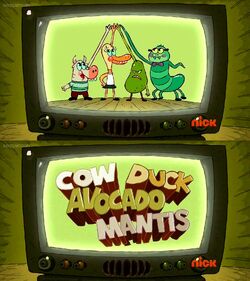 Parody of Pig Goat Banana Cricket
"Cow Duck Avocado Mantis (fictional series)" is an in-show parody of the show Pig Goat Banana Cricket. In "The Tooth of My True Love", Cricket and Pig are seen watching it in separate scenes. In this fictional show (which breaks the fourth wall), simplified versions of the real show's characters slap each other repeatedly. This show is also a reference to Cricket's pre-series name, Mantis, which later had to be changed due to a separate character with the same name existing in "Kung-Fu Panda".

They will have an episode called "Cow Duck Avocado Mantis" in Season 1.
Ad blocker interference detected!
Wikia is a free-to-use site that makes money from advertising. We have a modified experience for viewers using ad blockers

Wikia is not accessible if you've made further modifications. Remove the custom ad blocker rule(s) and the page will load as expected.