Fast Growing Evil Monster Plants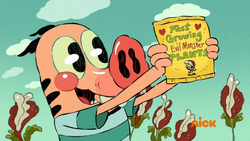 Pig with a packet of seeds.
Fast Growing Evil Monster Plants are growing plants that Pig has planted in the garden for Angry Old Raisin as an apology. They tend to grow very fast. One evil monster plant attempted to eat Angry Old Raisin, but Pig rescues him by killing it with a tennis racquet, setting him free.

They bear strong resemblances to Piranha Plants from the Super Mario Bros. video game series.
Ad blocker interference detected!
Wikia is a free-to-use site that makes money from advertising. We have a modified experience for viewers using ad blockers

Wikia is not accessible if you've made further modifications. Remove the custom ad blocker rule(s) and the page will load as expected.