Hover Pizza Cats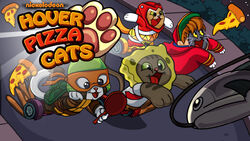 Flash game on Nick.com
Hover Pizza Cats is a flash game on Nickelodeon's website.
Nick.com Description
Help your cats collect pizza and avoid obstacles as they race through the streets in this fun online racing game. In Nickelodeon Hover Pizza Cats, a free online game, the cats have taken to the streets and are riding their boards around town, collecting all the pizza they can. These cats need your help to get around safely so use the laser pointer to change lanes, use the ball of yarn to jump, and use your other tools for additional navigation in this free online funny game. Dress your cat up in different costumes, from SpongeBob SquarePants, Teenage Mutant Ninja Turtles, Alvin and the Chipmunks, Power Rangers Dino Super Charge and many other Nickelodeon shows. Play Nickelodeon Hover Pizza Cats and other free online racing games on Nick.com.
Characters
Goat (uniform)
Pig (crossing the street in Level 6; shown as you tap on the pickle-related decoration)
Shopping Cart Dog (decoration)
Gameplay
In this game, you are a cat dressed up as a character from a Nickelodeon animated series and you have to use 5 moves on the "catalog", in order to avoid the obstacles in your way.
The sixth level's background is from Pig Goat Banana Cricket and as you win it, you unlock a Goat uniform, a decoration related to Pig's obsession with pickles and the level's background. You can also buy a decoration with Shopping Cart Dog.