For the episode with the same name, click here.
Miss Cutesy Meow Meows (toy)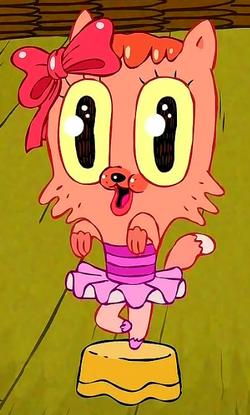 Cricket's favorite doll
Miss Cutesy Meow Meows is the name of a fictional feline doll that is also a lethal weapon. It belongs to Cricket and is presumably 12 inches tall. It is a pink cat that wears a ballerina outfit. It also features a talking ability.

One of its signature phrases is "I'm Miss Cutesy Meow Meows, pow pow!", followed by an explosion.

She is voiced by Candi Milo.
Ad blocker interference detected!
Wikia is a free-to-use site that makes money from advertising. We have a modified experience for viewers using ad blockers

Wikia is not accessible if you've made further modifications. Remove the custom ad blocker rule(s) and the page will load as expected.