Monkey Chow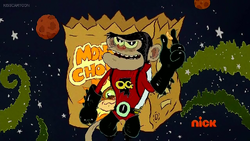 "If you want your daily dose of Baboonium and Vitamin Ape, then eat Monkey Chow every 6 minutes!"
Monkey Chow is a brand of food sold in Boopelite. It is a snack primarily for primates, meant to give them extra strength and vitamins. It is endorsed by its mascot Quandarious Gooch, who performed a short commercial for it in "Underpants-Palooza".
Ad blocker interference detected!
Wikia is a free-to-use site that makes money from advertising. We have a modified experience for viewers using ad blockers

Wikia is not accessible if you've made further modifications. Remove the custom ad blocker rule(s) and the page will load as expected.