"Outro Song"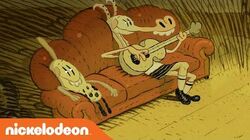 From every episode of Pig Goat Banana Cricket
The Outro Song is a gentle guitar song that plays at the end of every Pig Goat Banana Cricket episode. During this 30 second song, Goat is playing on her guitar on the couch as Cricket and Banana relax. Pig is seen holding a red balloon near the couch, which he squeezes at the end of the song, causing a high-pitched "fart" noise.
As this is happening, the credits for the episode appear on screen, followed by the 2009 Nickelodeon Productions logo sequence.
Ad blocker interference detected!
Wikia is a free-to-use site that makes money from advertising. We have a modified experience for viewers using ad blockers

Wikia is not accessible if you've made further modifications. Remove the custom ad blocker rule(s) and the page will load as expected.