Pew! Pew! Pickle!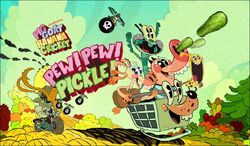 Flash game on Nick.com
Pew! Pew! Pickle! is a flash game on Nickelodeon's website.
Nick.com Description
What do Pig, Goat, Banana, Cricket and flying pickles all have in common? They're all part of a new free online action game on nick.com! In Pig Goat Banana Cricket: Pew! Pew! Pickle, the gang is riding around town in a shopping cart from Picklemart. Things get crazy when Pig, Goat, Banana and Cricket need your help jumping in the cart to avoid obstacles and collect coins. Suddenly, they run into Shragger! Now, Pig, Goat, Banana and Cricket must attack Shragger with flying pickles! Collect enough coins and you can upgrade each character to help you defeat Shragger.
Characters
Trivia
When you lose the game, you get a game over screen and The Shragger's feet appear to be missing.