Pig Goat Banana Cricket Wiki
You are on the home page of the Pig Goat Banana Cricket Wiki, a wiki for the animated comedy series Pig Goat Banana Cricket on Nickelodeon and Nicktoons! The show revolves around 3 different animals and a fruit who have different personalities. The four have fun by going through adventures in the whole wild world!
Please look at our rules before editing.
---
Featured Character (December 2017)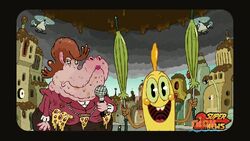 Voiced by
Vanessa Marshall
Mary Louise Pizzagut is a female newscaster for Channel 2 Super News. She was one of the on-air correspondents during the Fudge-pocalypse.

Not much is shown about Mary's personality other than her professional side. She likely is nice in nature but can get easily aggravated when her job is interrupted.

Mary Louise Pizzagut is a light pink Hippopotamus. She has shoulder-length red hair. She wears a magenta long-sleeved shirt covering a white shirt and a black skirt. She also has slices of pizza dangling from her torso, hence her last name.
(Read more...)

---
Previously featured characters:


Vote for the next featured character on the poll to the right!
Rules
You must be at least 13 years old to use this website. This is a part of Fandom's Terms of Service.
Please don't use swear words when making a comment or message in the chat room.
Bullying, defaming or otherwise harassing others is obviously not tolerated and will result in a ban on the first offense.
Disrespecting an administrator or chat moderator is not tolerated.
Do not edit just for badges. These edits will be reverted if they are seen to be useless.
When editing, please try to add the correct templates. If you fail to add them, it is not a bad thing. An admin will likely correct it for you but please don't do this too often.
If you make a page with nothing on it or something silly, it will be deleted and you will be blocked.
Do not add Fanon material. This wiki is for legitimate episodes and characters. If you want to add a story to a Fandom page, please add it to the Nickelodeon Fanon Wiki or the Pig Goat Banana Cricket Fanon Wiki.
Do not add media (photos, videos) that is unrelated to the show, unless it is for your user page only. For example, if you add a picture of SpongeBob to your user page and no where else, it is perfectly fine.
If you are blocked and one of our admins believe you are coming back under a different account, that one will be banned as well. Block evasion is against Fandom's policy as well.
Do not add photos that were taken from a camera. We only accept screenshots.
More rules may be added if they were forgotten.
Administrators
The following people are administrators of this wiki:
If you have any questions, comments, suggestions or concerns, don't hesitate to send them a message!
Facebook Fan Group
We now have a Pig Goat Banana Cricket Facebook fan group! Click here to join!
Pig Goat Banana Cricket Fanon Wiki
Make up your own fan characters and stories related to the show here! [1]
This wiki is for archival and educational purposes only and is not meant to gain any revenue. Pig Goat Banana Cricket belongs to Dave Cooper, Johnny Ryan & Viacom.
Latest promo/clip
Poll
Which main character is your favorite?
What was your favorite Season 1 episode?
Who should be the featured character for January 2018?
Ad blocker interference detected!
Wikia is a free-to-use site that makes money from advertising. We have a modified experience for viewers using ad blockers

Wikia is not accessible if you've made further modifications. Remove the custom ad blocker rule(s) and the page will load as expected.