Police Flakes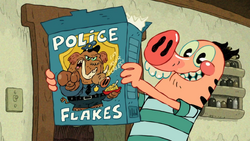 Pig is looking forward to eating a nutritious bowl of Police Flakes all morning.
Police Flakes is a brand of cereal that Pig loves to eat all morning in "The Most Beautiful Roach in the World". Inside the cereal comes with a badge, a police uniform and a police car.

Tiny Captain is the mascot of the cereal brand until he came to life by popping out of the box and helped Pig by becoming a good cop.
Ad blocker interference detected!
Wikia is a free-to-use site that makes money from advertising. We have a modified experience for viewers using ad blockers

Wikia is not accessible if you've made further modifications. Remove the custom ad blocker rule(s) and the page will load as expected.