Smooty's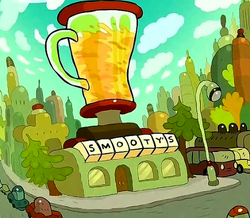 Boopelite's Smoothie Parlor
Smooty's is a smoothie parlor located in Boopelite. Thomas Jefferson works as a cashier for this place. Its sign features a lemon repeatedly jumping in and out of a blender. It offers three flavors of a smoothie: Summer Breeze, Island Slurp and Cherry Heaven.

Each day, a "Customer of the Day" is chosen. The chosen customer gets free smoothies for a week, their picture on the wall, and their name written on the "Smootie Constitution". Goat was chosen as the Customer of the Day in "Zombie Broheims".
Ad blocker interference detected!
Wikia is a free-to-use site that makes money from advertising. We have a modified experience for viewers using ad blockers

Wikia is not accessible if you've made further modifications. Remove the custom ad blocker rule(s) and the page will load as expected.