Totally Goatally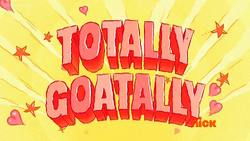 Goat's reality television show, filmed by The Dumbles.
Totally Goatally is a fictional reality television series that focuses on Goat and her daily life. It is filmed by The Dumbles, a group of elves hungry for TV ratings. The show features Goat as she does various actions such as dancing, skateboarding and singing.
It eventually reached the #1 spot in the ratings in Dumbleville. However, for the finale, the Head Dumble wanted Goat to kick Pig, Banana and Cricket out of The Treehouse. Goat declined, thus ending the series and her relationship with The Dumbles. This led to Quandarious Gooch becoming the new focus for the series.
Ad blocker interference detected!
Wikia is a free-to-use site that makes money from advertising. We have a modified experience for viewers using ad blockers

Wikia is not accessible if you've made further modifications. Remove the custom ad blocker rule(s) and the page will load as expected.